Standardization. That is a term used in aviation which in general terms means "to bring into conformity with a standard especially in order to assure consistency and regularity." Checklists need to be read and responded to with the same consistency and regularity. For the student, eventually, the checklist will become second nature. However, their is a proper way to read and respond to a checklist. In this blog article, I will discuss the Before Takeoff and Landing Checklists that we use at Sky Soaring.
AABBCCCDE and FUSTALL
The Expanded Before Takeoff Checklist: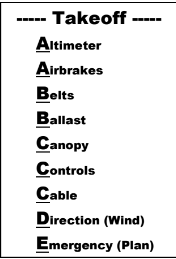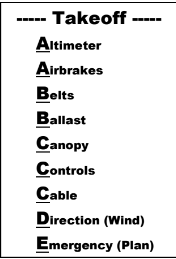 AABBCCCDE
Altimeter…Check that the altimeter is set at field elevation. At Sky Soaring we use 900 feet MSL.
Airbrakes…Deploy the airbrakes fully, visually checking each wing that they are fully extended. Close and lock the airbrakes visually checking they are closed.
Belts…seat belt harnesses should be on and secure for both the front and back seat occupants. The PIC is responsible to ask the other seat occupant if his/her seat belt is on and secure.
Ballast…if installed, should be secure in its holder.
Canopy…Close and lock the canopy. Pushing up on the canopy with a closed fist will ensure the canopy is locked.
Controls…check the ailerons, elevator and rudder for free and clear movement in all directions. This is also a good time to check the trim setting.
Cable…Check the towrope for the proper towring, that it is connected and a release check has been completed, if necessary.
Direction…Note the direction and speed of the wind. Headwind, Tailwind, Crosswind, Gusts.
Emergency…Your emergency plan should you have a low altitude rope break or other emergency such as towplane failure.
---
The Expanded Before Landing Checklist: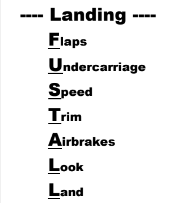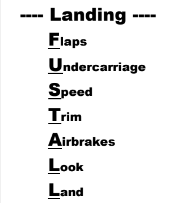 FUSTALL
Flaps…if installed, Flaps are set in the landing configuration.
Undercarriage…Visually check the gear handle is in the gear down and locked position.
Speed…approach speed based on weight, wind/speed and wind gusts.
Trim…trim is set for the landing configuration.
Airbrakes…airbrakes are checked by deploying and then stowing.
Look…check the windsock, look for traffic on the runway and glider movement areas and in the traffic pattern.
Land…full concentration during the approach and landing noting your aim point
---
Challenge and Response, how the checklist should be read aloud and responded to aloud even if you are flying solo. A good habit pattern to get into.
Before Takeoff Checklist
ALTIMETER…..SET, 900 FEET, CHECKED
AIRBRAKES…..CHECKED, STOWED AND LOCKED
BELTS…………….ON AND SECURE
BALLAST……….NOT REQUIRED/INSTALLED AND SECURE
CANOPY………..CLOSED AND LOCKED
CONTROLS……CHECKED
CABLE…………..CONNECTED
DIRECTION……WIND DIRECTION CHECKED AND NOTED
EMERGENCY…BELOW 200 FEET STRAIGHT AHEAD, 200-400 TEARDROP RIGHT/LEFT RETURN TO FIELD, ABOVE 400 MODIFIED PATTERN
ANNOUNCE….BEFORE TAKEOFF CHECKLIST COMPLETE
---
Before Landing Checklist
FLAPS….SET FOR LANDING/NOT INSTALLED
UNDERCARRIAGE….DOWN AND LOCKED
SPEED….?? MPH/KTS
TRIM….SET FOR LANDING
AIRBRAKES….CHECKED
LOOK…WIND DIRECTION, GROUND/RUNWAY TRAFFIC, PATTERN TRAFFIC
LAND…AIM POINT ??…LANDING
ANNOUNCE…BEFORE LANDING CHECKLIST COMPLETE
Don Grillo CFI-G
Capt. AA (Ret)
Sky Soaring