Gift Certificates are available for purchase at anytime via our website. They make great gifts that will be remembered for a lifetime. Gift Certificates are valid for 2 years from date of purchase. NON REFUNDABLE.
Experience the Thrill and Beauty of Glider Flight!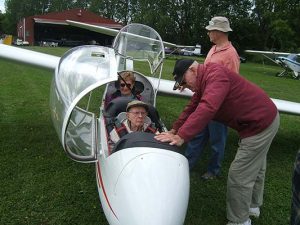 Whether checking off a must do on your bucket list or just seeking a thrill, an FAA certified commercial pilot will take you in a comfortable two seat glider and you'll soar quietly above the beautiful Hampshire countryside back to earth.
Glider rides may be purchased at the field the day of or with a gift certificate purchased in advance.  See Below.

We offer three different types of glider rides.
1.) Mile High Glider Ride; 
With one of our FAA Certified Commercial Pilots, you will be towed to 5280 feet (1 mile) above ground level (6200 MSL) and soar like an eagle above the beautiful Hampshire country side.  On a clear day you can see the skyline of Chicago and beyond.  Your flight will last approximately 45 minutes depending on weather.  The ultimate glider ride. Visit the shop for details.

2.) Scenic Glider Ride;
Scenic glider rides last about 25 minutes. You will fly with a FAA Certified Commercial Pilot.  Our towplane will tow you up to 4000 feet (MSL) where you will release from the towplane and soar quietly back to the Sky Soaring airport. Scenic views of the Hampshire countryside are in every direction.  On clear days you can see the Chicago skyline. Visit the shop for details.
3.) Take Your First Glider Lesson
What is the FAST program? (Fly A Sailplane Today)
The FAST program gives you the opportunity to get a taste of what soaring is all about.  It is a program that offers you an introductory lesson in flying a glider, during which you will handle the controls of the aircraft under the guidance of an FAA certificated glider flight instructor.  Visit the shop for details on your first flight lesson.
Glider rides are provided on any day we have operations, generally weekends and some weekdays and a commercial pilot is available, between 10:00 AM and 5:00 PM.  Rides available from mid April through October, weather permitting.
We do not book reservations.  First Come First Serve.
We have a picnic area where you can sit and watch our operations.

See Passenger Restrictions below.
---
Give that once in a lifetime adventure ride with a Gift Certificate.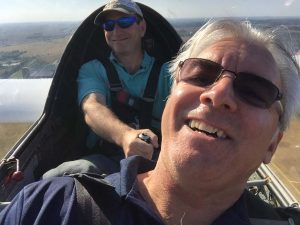 PASSENGER RESTRICTIONS:
Weight Limit: 210 lbs.
Minimum Height Limit: 4 feet
Minors require parental presence.

Please call the field office before leaving home to verify we're flying.  (847) 683-7627.
Don't forget to bring your camera!