Tuesday, July 6th, 2021 at 10:25 am
#10788

Don Grillo
Keymaster
As mentioned, President Biden will be visiting Crystal Lake on Wednesday, July 7, 2021. The FAA has issued a TFR (Temporary Flight Restriction) for this visit. For our students, who may not know what a TFR is and how we as pilots must adhere to that restriction here is a brief synopses.
A Temporary Flight Restriction (TFR) is a type of Notices to Airmen (NOTAM). A TFR defines an area restricted to air travel due to a hazardous condition, a special event, or a general warning for the entire FAA airspace. The text of the actual TFR contains the fine points of the restriction.
Here is a map of the TFR for Wednesday. A TFR also has specific times that they are active and is delineated in the text.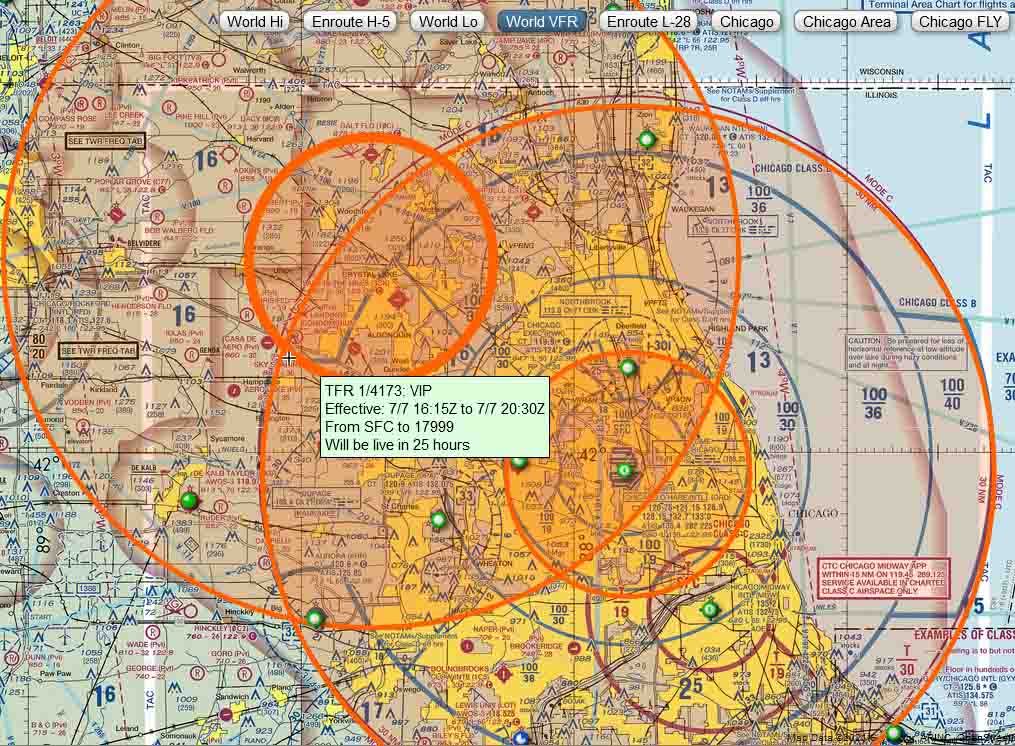 Below is the actual text that the FAA has issued for the TFR. Note that their are 6 areas (A-F) and times covered in this TFR.
For your exercise today, see if you can find Sky Soaring on the map and what Areas and Times it effects us?
Area A
Airspace Definition:

Center:

On the NORTHBROOK VOR/DME (OBK) 174 degree radial at 15.3 nautical miles. (Latitude: 41º58'08″N, Longitude: 87º54'04″W)

Radius:

30 nautical miles

Altitude:

From the surface up to and including 17999 feet MSL

Effective Date(s):

From July 07, 2021 at 1530 UTC (July 07, 2021 at 1030 CDT)

To July 07, 2021 at 1700 UTC (July 07, 2021 at 1200 CDT)

Area B
Airspace Definition:

Center:

On the NORTHBROOK VOR/DME (OBK) 174 degree radial at 15.3 nautical miles. (Latitude: 41º58'08″N, Longitude: 87º54'04″W)

Radius:

10 nautical miles

Altitude:

From the surface up to and including 17999 feet MSL

Effective Date(s):

From July 07, 2021 at 1530 UTC (July 07, 2021 at 1030 CDT)

To July 07, 2021 at 1700 UTC (July 07, 2021 at 1200 CDT)

Area C
Airspace Definition:

Center:

On the NORTHBROOK VOR/DME (OBK) 279 degree radial at 18.9 nautical miles. (Latitude: 42º15'36″N, Longitude: 88º22'19″W)

Radius:

30 nautical miles

Altitude:

From the surface up to and including 17999 feet MSL

Effective Date(s):

From July 07, 2021 at 1615 UTC (July 07, 2021 at 1115 CDT)

To July 07, 2021 at 2030 UTC (July 07, 2021 at 1530 CDT)

Area D
Airspace Definition:

Center:

On the NORTHBROOK VOR/DME (OBK) 279 degree radial at 18.9 nautical miles. (Latitude: 42º15'36″N, Longitude: 88º22'19″W)

Radius:

10 nautical miles

Altitude:

From the surface up to and including 17999 feet MSL

Effective Date(s):

From July 07, 2021 at 1615 UTC (July 07, 2021 at 1115 CDT)

To July 07, 2021 at 2030 UTC (July 07, 2021 at 1530 CDT)

Area E
Airspace Definition:

Center:

On the NORTHBROOK VOR/DME (OBK) 174 degree radial at 15.3 nautical miles. (Latitude: 41º58'08″N, Longitude: 87º54'04″W)

Radius:

30 nautical miles

Altitude:

From the surface up to and including 17999 feet MSL

Effective Date(s):

From July 07, 2021 at 1945 UTC (July 07, 2021 at 1445 CDT)

To July 07, 2021 at 2145 UTC (July 07, 2021 at 1645 CDT)

Area F
Airspace Definition:

Center:

On the NORTHBROOK VOR/DME (OBK) 174 degree radial at 15.3 nautical miles. (Latitude: 41º58'08″N, Longitude: 87º54'04″W)

Radius:

10 nautical miles

Altitude:

From the surface up to and including 17999 feet MSL

Effective Date(s):

From July 07, 2021 at 1945 UTC (July 07, 2021 at 1445 CDT)

To July 07, 2021 at 2145 UTC (July 07, 2021 at 1645 CDT)