Why Join?
The club is all about sharing the fun of flying gliders with friends and family.  We sponsor planned social events throughout the year but every day provides an opportunity to participate in the sport – and build friendships in the process!
Location. Our private field is only 45 minutes northwest of Chicago off Interstate 90.
The club has nine FAA certified flight instructors and fifteen tow pilots.
Members have free use of the club's gliders. No rental fees!
FAA Flight Examiner available for private and commercial glider check rides.
Sky Soaring airport (55LL) has a 3,000 ft. grass runway, a hangar, pilot's club room
Our airport is privately owned and is not a busy commercial operation.  It has no pattern congestion with power planes and no air space intrusion by sport parachutists.
Flying at Sky Soaring is Exceptionally Affordable
Application Fee:   $150
(Application fee is refunded if your application is denied)
Sky Soaring Club Dues:
Yearly Membership –      $618
Additional family members         $50
Yearly Soaring Society of American Membership (required)     $72
Yearly Chicagoland Glider Council Membership (required)     $10
"Buy In" can be paid all at once or $200 per year (required)     $1000
Yearly Junior Membership – no application fee or buy in required (over 13 and under 21)     $250.
Club Aircraft Rental Rates:
Schweizer SGS 2-33a    $0.0 per hour
Krosno KR-03    $0.0 per hour
Schweizer SGS 1-26    $0.0 per hour
SMYK PW-5    $0.0 per hour
Lark IS-28b2  $0.00
Aero Tow Fees:
1000 feet    $20.00
2000 feet    $30.00
3000 feet    $45.00
Winch Fees:
$10.00 regardless of height – We get about 1000 feet with the short rope and 2000 feet with the long rope. VERY EXCITING!
Instruction Fees:
Flights 10 minutes or less    $5.00 per flight
Flights over 10 minutes (no max)    $10.00 per flight
Ground Instruction    $0.0 per hour
Field Use Fees- Tie Down Charges:
If/When you own your own glider    $0.0 per month
---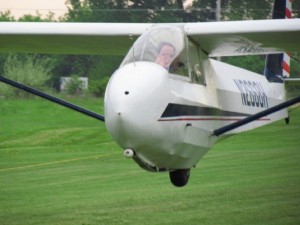 Use our online form below to submit your new member application
The Sky Soaring Board of Directors will review your application and the membership coordinator will contact you after your application fee is received.
There is a refundable (should your application not be accepted) $150.00 *initiation fee to apply for Sky Soaring Membership.
*(No initiation fee for Youth/Junior membership applications.)

Please fill out the Application Form Below and press submit. Then go to our store and pay your initiation fee with your credit card.


Now go to our store and pay your initiation fee.